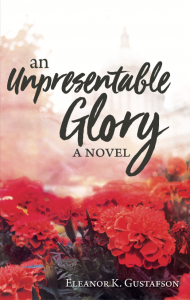 Hot off the press: Another exciting page-turner!
A noted gardener from snobbish Westchester County in New York, finds a stranger, obviously ill, sprawled near her delphiniums. She takes him into her house and cares for him an entire week and only later learns who he really is. An investigative reporter uncovers the secret week, and both Linda and her guest become a spectacle in the eyes of the world. This series of uncomfortable, off-putting situations unaccountably points to an overarching glory, rising out of pain, tragedy, and love.
Readers say:
Gustafson's literary treatment of a theme of redemption and restoration is set in a literal garden of delights. It is both a parable and a provocative contemporary story, crafted by a writer who is skilled, precise, and imaginative in her use of words.
~Latayne C. Scott, award-winning author of A Conspiracy of Breath and Latter-day Cipher.

God's grace and providence govern every episode of this tale of searching and sacrifice that will leave the reader's soul enriched.
~Brenda Cox, Tethered: The life of Henrietta Hall Shuck,

A story our weary world desperately needs. . . An intense and personal exploration of one woman's journey of faith and the struggle to follow God's leading in this modern world of ours.
~ Rachel L. Miller, co-author of the Bestselling Windy Gap Wishes series.
What will YOU say about it? Amazon will sell the ebook version for .99 through the month of July. Don't miss this splendid opportunity! And por favor—follow up your read with a review, even if you don't like it. I want your honest opinion.